A lot of people in the United States are unhappy with their smiles, even when they use braces at some point in their lives.
Their self-esteem and confidence are ruin due to this unhappiness. They usually cover their mouths when they smile, talk or laugh.
They feel embarrassed about their teeth, but at the same time, they don't want metal braces in their mouths.
Dental patients in San Diego are concern about the fact of using metal onto their teeth at this point in their lives.
But I can tell you something by fact too: you can't have something good without fight for it.
You deserve the better, and to achieve a great smile you have to pass through a whole process.
Fortunately, out there are other teeth straightening treatments to correct the flaws of your teeth.
Many patients spend many years of their lives being embarrassed about their teeth.
They cover their mouth to avoid other people see their teeth. But they don't know what to choose because they think that it is too late to wear metal braces.
They want to know about other teeth straightening treatments to skip the metal in their mouths.
Too many adults in Clairemont are looking for comfortable and affordable alternatives.
But a lot of them don't know that nowadays they don't have to wear metal braces to achieve a straight smile.
If you have crooked teeth and you don't want to wear metal in your mouth for a couple of years, you need to know about the invisible braces.
Maybe you hear sometimes the term "Six Month Smiles".
An efficient and low-cost way of cosmetic braces that help you to have straightened teeth without using metal in your mouth.
However, this system of clear braces it is not an option to all.
Invisalign Braces
Invisalign Braces are almost invisible to other people, and it is a technique to straighten your teeth.
A dentist can perform this treatment placing aligners that you can remove at night.
This device has no color, and the patients can change their aligners as needed. For instance, the replacement could be every three weeks.
There are different ways to create the Invisalign devices that mostly include computer animations that are custom-made for the patient.
Plus, you are not going to have any trouble to eat whatever you want or brush your teeth.
Clear aligners are discreet and fit comfortably into your mouth.
They are a straightforward way to achieve straighter teeth.
Compared to traditional metal aligners, there are made from other materials skipping the need of using the regular brackets.
Too many people avoid using metal brackets because they feel incapable of eating whatever they want, you know?
The candy gets stuck between your braces; you can't eat popcorn, bite apples or raw vegetables, among other types of food such as gum.
The metal in your mouth represent some troubles to a lot of people. That think that when they have a wedding or a big event where is going to be people taking photographs.
They won't be able to smile on that photos due to the metal.
Clear aligners can allow you to smile normally for the big occasions.
But, keep in mind that this is a cosmetic treatment. If you have super crooked teeth, perhaps this procedure won't be recommended to you.
Traditional Braces in San Diego
Traditional braces are the conventional aligners that orthodontics use since always.
This involves previous tests to give a diagnostic to start with the treatment.
The braces are an invention to correct abnormalities in your teeth changing for right the position of the dental pieces.
To change the position of teeth, brackets must make constant pressure on them.
This could be a goal to achieve, and in Serena Family & Cosmetic Dentistry we can provide the proper treatment to every patient.
Your dental expert will bond the metal brackets to the dental pieces in your mouth.
Don't be afraid; if you don't qualify to get clear braces, the traditional way will be a great choice.
You are going to have guaranteed that your teeth will be straight. Maybe it would take some time, but believe when I tell you that it worth it.
Plus, this treatment will improve the way you bite.
Perhaps you don't know it, but your teeth need to meet in a proper way when you chew.
Otherwise, your teeth can get worn. The braces increasingly help to get an ideal bite.
You can find a few great options in our dental office.
You can find the treatment you need obtaining a safe and comfortable treatment.
But first, you need to come for an appointment. A dentist must see you and practice some tests for you to know what would be better for you.
Benefits of Brackets
A lot of people relate the metal aligners with teenagers, but adults and even kids of all ages can obtain benefits from the treatment. That means that you can wear them at any age.
Here you have a few benefits of wearing metal brackets:
Adults of all ages can opt for this alternative.
You are going to obtain a straight smile in a couple of years getting a better-looking smile.
Since you can't eat a lot of foods, probably you lose extra weight.
Adult patients can lower the risks of tooth loss.
You will also have lower possibilities of tooth decay.
Metal aligners are an effective treatment with guaranteed results.
Nowadays are a bunch of alternatives to achieve a straight smile. You can choose among them, but your dentist will make the final call.
You can't take a professional decision. You probably are looking for a comfortable treatment, but sometimes it is not the best for you.
Which will be better for me?
Busy professionals or students try to avoid this treatment because they don't want to show metal in their teeth for a year or so.
Some people want a better smile in no time without understanding that it is a whole process.
Perhaps you are considering to opt for the clear braces or the Six Month Smiles, but maybe they are not an available option for you.
Every patient is different and has specifics needs.
That is why orthodontics have a special way to treat every single case.
You can learn more about this with Dr. Serena Kurt in her office to know more about the major benefits of both treatments.
At the end of the day the goal to achieve it's to get a better smile and stop being embarrassed about your smile.
You need to stop covering your mouth when you laugh or talk.
You deserve to improve your self-esteem with a proper straightening alternative that suits you.
Discreet Brackets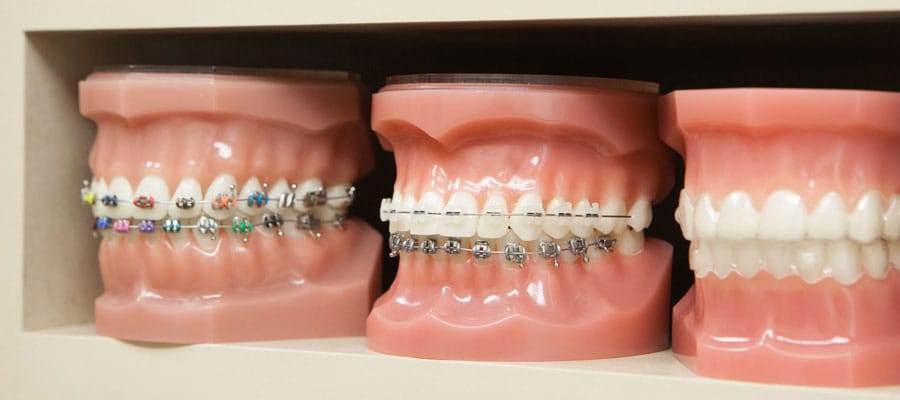 Yes, your teeth can look great in no time. But you need to keep in mind that perhaps you are not a candidate for them and maybe you won't get the same result that would you have with conventional braces.
A super straight smile in only six months sounds super attractive, even for me.
But if your teeth are too crooked and you're the way you chew is severely misaligned, Invisalign treatments won't be the better alternative for correction.
I know, it can take you one or two years to achieve the goal.
But the whole problem will go away for good. Plus, whether you opt for clear or metal braces, after the treatment you are going to need a mouth retainer.
Believe or not, your teeth have memory, and they can remember where they were at the beginning of your treatment.
They can move to the position where they were before. So, it is super important to keep in mind that you will need your retainer.
Maybe you think that after removing the braces everything is over, but it is not.
As you improve your smile enhancing your teeth. You must keep a healthy routine with your teeth just to keep a gorgeous smile.
Plus, maybe your teeth are alight now, but sometimes patients require extra treatments such as veneers or dental crowns.
The bottom line here is that as long as you keep a proper oral care routine, you can prevent dental problems in the future.
How to Choose your Dentist in San Diego?
If you are in the San Diego area, it will be easy for you to find us. Remember that our dental office is located in Clairemont, Mesa Blvd. #4453 in San Diego, California 92117 and our telephone number is (858) 800 3909.
Also, you can find on our social media accounts on Twitter, Facebook, and Instagram. Ask for our free second opinion and don't forget to brush and floss every day.