The Difference Between All-on-4, All-on-6, & All-on-8 Dental Implants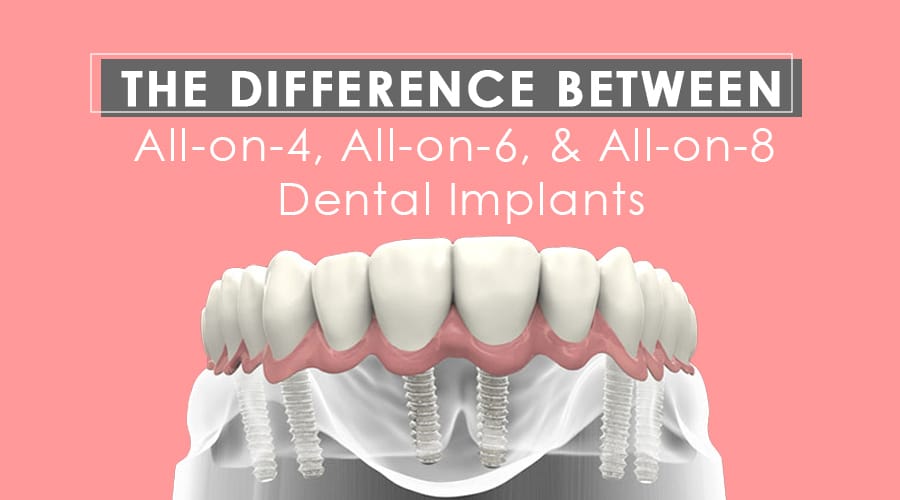 All on 4 dental implants San Diego is a revolutionary restorative dental treatment that offers a full mouth transformation. But did you know there are other variants of this treatment? 
All on 6 dental implants and all on 8 dental implants are very much real.
 If you're not sure what the difference could be between all of them or are trying to figure out what's the best one for you, stick around until the end. We'll describe the differences for you to understand a bit better.
Missing some teeth in your denture causes many different issues in your life. You can start feeling self-conscious about your appearance and let your self-esteem drop. 
This will eventually affect your choices and the way you present to the world. How many opportunities have you let pass you by because you feel insecure about your teeth? 
Not only gets your mental health affected, but your physical health as well. With this implant solution, it is possible to reconstruct your mouth permanently and forget about the days when you struggled because of tooth loss or damage.
 3 Types of All-on System Dental Implants In San Diego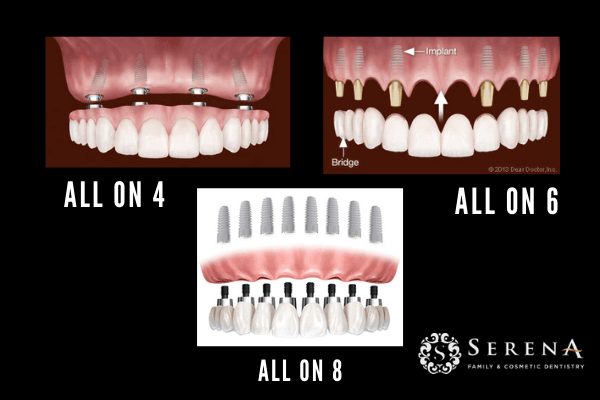 The main difference between all on 4 dental implants San Diego and the other two can be found in their names. In each treatment, a different amount of implants will be utilized. 
1- All on 4 dental implants San Diego
At Serena Family & Cosmetic Dentistry, we can reconstruct your teeth with this procedure. It consists of installing four dental implants into the jaw either in one or both arches (depending on your dental condition's severity) to create a base that can support dentures or Porcelain Crowns.
To successfully perform all on 4 dental implants in San Diego, we must make sure you have enough bone density in your jaw. Otherwise, we might have to resort to an additional bone graft treatment. 
2- All on 6 dental implants San Diego
This all on 6 variations requires two more titanium implants to provide more strength and stability to the jaw. This not only distributes pressure much better, but it also gives your new teeth a better chance of succeeding. Not to mention the enormous benefit to the bone growth of your jaw, preventing it from shrinking. 
Depending on what your dental health needs, our Clairemont dentists will evaluate you and determine if this technique is the most adequate to use.
3-All on 8 dental implants San Diego
Our Clairemont dentists employ this all on 8 system when the patient needs more security, which generally happens because the patient lacks bone density or the shape of their mouth is a bit irregular, among other reasons. 
That's why here at Serena Family & Cosmetic Dentistry, we study your mouth very carefully with a 3D tomography to get the most accurate diagnosis. 
All on 8 allows bite pressure to be more even, making the implants very comfortable and effective for the patient.
5 Things That Make You a Candidate for All-on Dental Implants 
Have multiple damaged or missing teeth that need to be replaced.

Have dental health in good shape. This means that you maintain a good hygiene routine and get your dental check-ups every once in a while. And if you don't, it's never too late to start. You got this!

Have the will to stop smoking. Smoking is a significant contributor to implant failure and makes you six times more vulnerable to gum disease.

Have good enough overall health for you to undergo surgery. The implants' placement is a surgical procedure, so there is some risk that comes with it.

Have the commitment to make the treatment work for you. To ensure all on 4 dental implants are a success, you must listen to the dentist's recommendations. Make any needed changes to your diet and say goodbye to bad habits. Go to every necessary dental visit to monitor your progress.
If you're unsure that you meet all the requirements, don't give up just yet! It would be best if you still talked with your dentist to see your options and any other solutions you can take.
4 Fun Facts About Dental Implants
1- No more cavities
Once you get dental implants, you can forget about decay. It's still essential to have a dental hygiene routine, so don't skip it! But titanium implants cannot and will not develop decay.
2- Dental implants are permanent
That's right, dental implants can last a lifetime with proper care. Remember, it's your dentist's job to install them but maintaining them is pretty much on you. Make sure to clean your teeth and attend to your appointments for dental check-ups.
3- Implants have been around for a while
Ancient Mayans started using dental implants first. But how? Well, they didn't have the advanced 3D software we have at Serena Family & Cosmetic Dentistry, but they did have hammers. More specifically, Mayan women decided they just couldn't go around with missing teeth, so they took tooth-shaped shell pieces and hammered them into their gums.
4- Dental implants are made with the same material as a spacecraft
Most of the time, dental implants are fabricated with titanium. The same material the Space Shuttle was made out of. Titanium is solid and durable, not to mention biocompatible, which means it's not harmful to living tissue. This is why implants can fuse with the jawbone and stand stable to hold the new teeth. 
Hopefully, you got to know all on 4 dental implants in San Diego, all on 6, and all on 8. If you're wondering where you could get this treatment for you or someone you know, get in touch with us! 
Dr. Serena Kurt is a highly-skilled dentist in Clairemont that can help you smile again. Book your first appointment today and get to experience modern, high-quality dentistry.